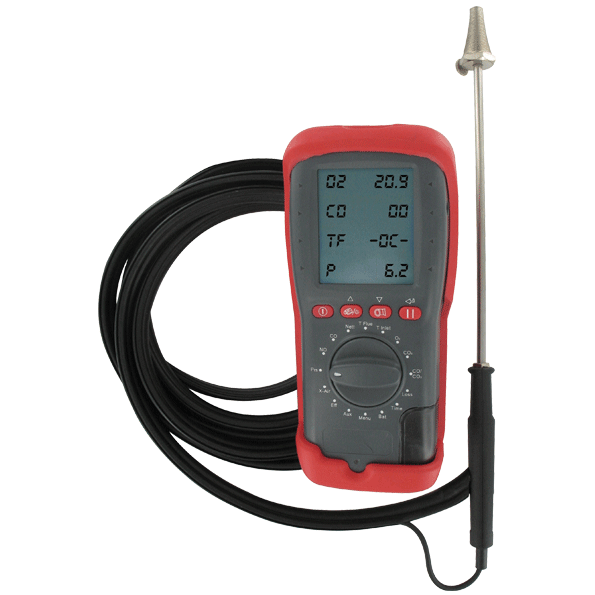 Images are representations only.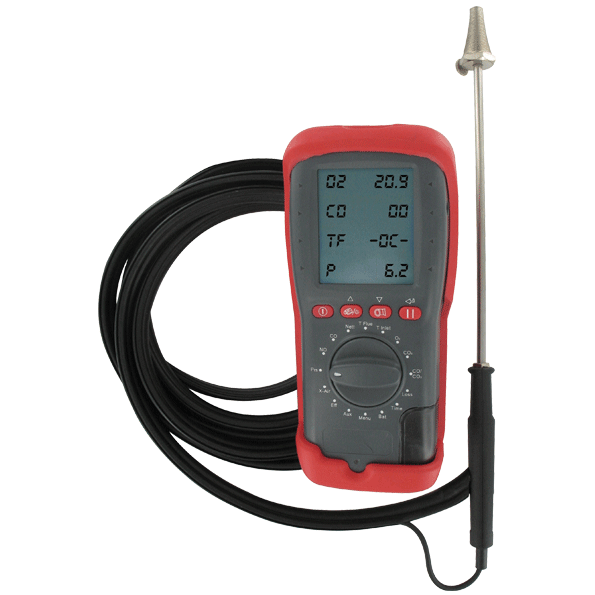 The MODEL 1207A Handheld Flue Gas Combustion Analyzer allows users to monitor four parameters simultaneously and change the parameters shown using the rotary dial selection switch.

The unit's memory stores up to 255 time stamped test sets and can output the measurements to a serial printer. For extra protection, the analyzer comes standard with a protective boot and magnetic back.
Features
Displays 4 Configurable Parameters Simultaneously
Stores Up to 255 Time Stamped Test Sets for Future Evaluation
Specifications
Accuracy
± 0.2% - Excess Air, O2
± 0.3% of Reading - CO2
± 1% of Reading - Efficiency
± 10 ppm< 100 ppm ± 5% of Reading - CO
± 2° C (± 3.6° F) ± 0.3% of Reading
Ambient Temperature Range
0° to 40° C (32° to 104° F)
Applications
Boilers
Combustion Equipment
Ovens
Approvals & Certifications
Flow Rate
0 to 2000 ppm - CO (4000 ppm, Maximum
Input
120 Vac Power Adapter
230 Vac Power Adapter
Length
10 feet (3 meters) - Hose
Media
Light Oil: Pre-Programmed Fuels
Natural Gas, Propane, Butane, LPG: Pre-Programmed Fuels
Wood Pellets: Pre-Programmed Fuels
Power Requirement
4 AA NiMH Batteries
8 AA Alkaline Batteries
Resolution
0.1% - O2, CO2, Efficiency, Excess Air
0.1° F / C - Temperature
1 ppm - CO
Sensor, Probe Diameter
11.8" (300 mm) Length x 0.25" (6 mm) Diameter - 7.8" (200 mm) Stainless Steel Shaft
Temperature Range
0° to 600° C (32° to 112° F)
Boilers
Combustion Equipment
Ovens