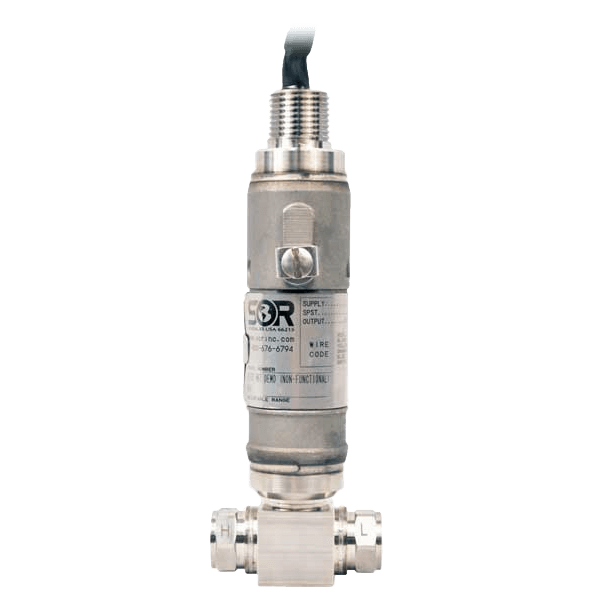 Images are representations only.
815DT Smart Differential Pressure Transmitter
Brand:
SOR Inc.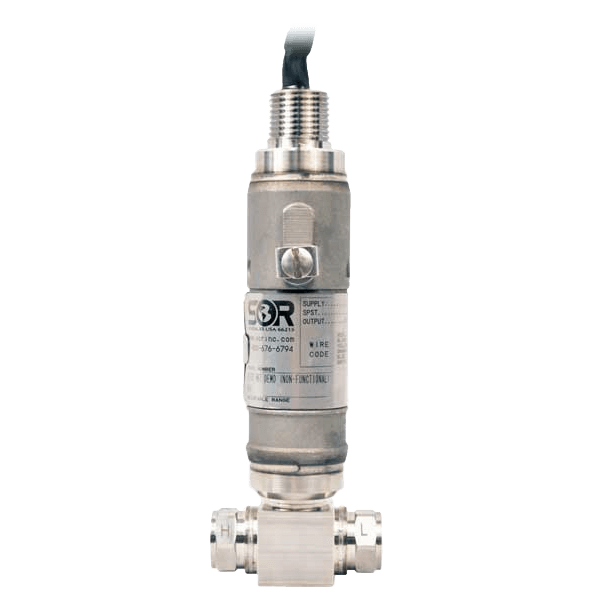 The 815DT Smart Differential Pressure Transmitter is a rugged, compact, loop-powered instrument that is ideally suited for hazardous locations and hostile environments where space is limited.

The 815DT offers many industry standard outputs to meet applications where low-cost, discrete and continuous monitoring is required or preferred.

This versatile instrument may be used to safely monitor and control many process applications, but is specifically designed for upstream, midstream, and downstream oil and gas applications.

The 815DT is easily configured using HART 7 Communication Protocol and Modbus RTU Serial Communications; it is also very easy to set the zero and span set points with a magnet, as the zero and span magnetic targets are clearly identified on the casting.
Specifications
Accuracy
± 0.10% of URL - BFSL Including Linearity, Hysterisis & Repeatability - Continuous Output
± 0.25% of URL - Switch Output
Display: ≤ 0.1% of Full Scale
Adjustment Type
Zero & Span Adjustment with a Magnet
Ambient Temperature Range
-40° to 80° C (-40° to 176° F)
Applications
Monitor & Control Many Process Applications
Oil & Gas Applications
Approvals & Certifications
ATEX Flameproof II 2 G Ex D IIC T5
CE
CRN
Display: CSA
Display: IEC Ex D
Dual Seal
EMC
FM (C,US) Explosion-proof Hazardous Locations: Class I, II, III, Division 1, Groups A-G, T5 & Non-Incendive: Class I, II, III, Division 2, Groups A-G, T5
Approvals & Certifications
Calibration Certificate
Compliance/Conformance
Hydrostatic Pressure Test
Inspection Report
Manufacturer's Certification
Typical Material of Wetted Parts
Burst Pressure
4 times FSPR (Full Scale Pressure Rating)
Circuit Protection
EMI/RFI Protected
Reverse Polarity
Communication
HART 7
Modbus RTU Serial Communication
RS-485
Compensated Temperature
-40° to 80° C (-40° to 176° F)
Conduit Connection
Electrical Conduit: 3/4" NPT Female - Display
Display
5-Digit Backlit Loop Powered LCD Display
Electrical Connectors
1/2" NPT Male
Termination: 18 AWG Shielded Cable, 72" (1,829 mm) Length
Electrical Contacts
Normally Closed
Normally Open
Electrical Rating
30 V, 120 mA for Normally Open Solid State Relay
Enclosure, Body Material
316 Stainless Steel - ASTM A351 CF8M, 1.4408
Display: Die Cast Aluminum with Chromating & Chemically Resistant Paint
Environmental Protection
Display: IP68
IP66
NEMA 4X
NPT Connection
1/4" NPT Female (HI & LO Side)
Output
1-5 Vdc (Low Power) Mode of Operation (36 mW ± 5 mW at 10 Vdc)
4-20 mA
Overpressure & Static Pressure Limits
Overpressure: 3 times FSPR (Full Scale Pressure Rating)
Pressure Range
bar: 0 to 34.47
kPa: 0 to 3,447
psid: 0 to 500
Process Temperature
-40° to 90° C (-40° to 194° F)
Special Cleaning & Packaging
Cleaned for Industrial Oxygen Service
Stability
Long Term: ≤ ± 0.5% of URL Per Year
Storage Temperature
-40° to 90° C (-40° to 194° F)
Temperature Effect
± 1% of URL/38° C (100° F) at -40° to 80° C (-40° to 176° F) - Continuous Output & Switch Output
Temperature Range
Display: -20° to 70° C (-4° to 158° F)
Zero Balance
Zero Balance & URL: ± 0.25% of URL (Each)