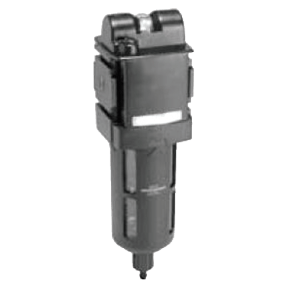 Images are representations only.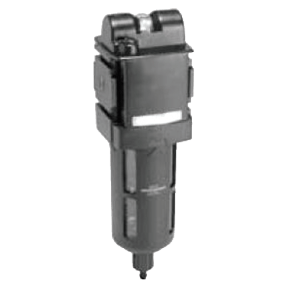 Take full advantage of compressed gases in pneumatic systems.

The gas must be adequately prepared. Rotork Fairchild's new Coalescing Filters provide the clean, dry, lubricated air essential for optimum performance of pneumatic systems. With their modular construction, the coalescing filters provides compact efficiency, high flow, and superior 0.5, 0.01, or 0.003 micron filtration.
Features
1/4", 3/8", 1/2" and 3/4" Port Sizes 
NPT and BSPP Threads 
Manual or Automatic Drains 
0.5 Micron Standard (0.01 and 0.003 available) 
Polycarbonate or Metal Bowl
Specifications
BSP Connection
1/2" BSPP
1/4" BSPP
3/4" BSPP
3/8" BSPP
Drain, Vent Position
Automatic Drain
Manual Drain
Filter
0.003 micron
0.01 micron
0.5 micron (Standard)
Flow Capacity
11 scfm (19 m³/hour)
40 scfm (68 m³/hour)
44 scfm (74 m³/hour)
48 scfm (80 m³/hour)
82 scfm (138 m³/hour)
90 scfm (151 m³/hour)
98 scfm (166.8 m³/hour)
Materials of Construction
Aluminum - Bowl
Polycarbonate - Bowl, Drains
Zinc - Bowl
NPT Connection
1/2" NPT
1/4" NPT
3/4" NPT
3/8" NPT
Pressure Range
bar: 0 to 10
kPa: 0 to 1,000
psig: 0 to 150
Temperature Range
0° to 65.5° C (32° to 150° F)