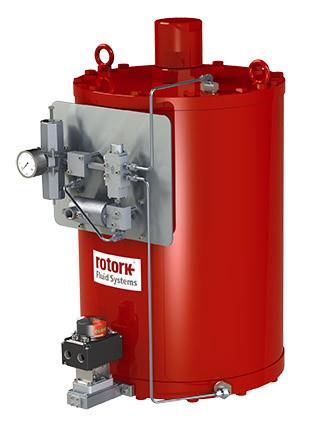 Images are representations only.
Rotork CQ Range - Compact Helical Actuator
Brand:
Rotork plc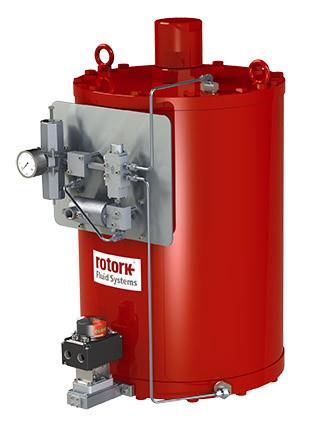 The CQ range provides an innovative fully-concentric and balanced actuator design for quarter-turn valves. The design features a helical mechanism that transforms linear piston motion into quarter-turn valve stem rotation. CQ actuators provide a much higher torque output for a given footprint than scotch yoke designs typically utilised to operate many quarter-turn valve types. It is therefore ideally suited for installation in confined spaces. Further, Rotork's unique helical pin design provides higher efficiency than a helical gear mechanism utilised by other valve actuator manufacturers.

As standard, the CQ torque output profile, like that of a scotch yoke actuator, is engineered to parallel the torque demand profile typically found with popular quarter-turn valve types. The CQ design however is unique in that the torque profile can be custom engineered and manufactured to meet specific, non-standard valve torque requirements.

Torque

Up to 150,000 Nm (1,300,000 lbf.in)
Operating Medium

Instrument air
Mineral oil
Sweet, clean and dry natural gas / nitrogen
Design Pressure

12 barg for the pneumatic
Stroke Adjustment

Temperature Range

Standard: -30° to 100° C (-22° to 212° F)
PED Compliant: -20° to 160° C (-4° to 320° F)
Low: -40° to 160° C (-40° to 320° F)
Extreme Low: -60° to 160° C (-76° to 320° F)
Certification

IP66M/IP68, PED, IECEx, EAC, suitable for SIL3 application
Actuators certified to ATEX 2014/34/EU
Specifications
Torque Output
Up to 150,000 Nm (1,300,000 Lbsf.in) Standard
Temperature Range
Extreme Low: -76° to 320° F (-60° to 160° C)
High: -4° to 320° F (-20° to 160° C)
Low: -40° to 320° F (-40° to 160° C)
Standard: -22° to 212° F (-30° to 100° C)
Approvals & Certifications
Approvals & Certifications
Flange Material
End/Bottom Flange: Carbon Steel
Material of Construction
Cam Follower Bearing: Aluminum Bronze
Piston, Helical/Vertical Slot Cylinder & Pneumatic Cylinder: Carbon Steel
Spring: Spring Steel
Upper/Lower Stop Bolt & Tie Rod: Alloy Steel
In our experience, the CQ standard range of sizes is suitable for applications that require a pneumatically powered actuator with torque demand less than 150,000 Nm. However, we also engineer CQ actuators with greater output and/or hydraulic power. Please apply to Rotork for these applications.

Weatherproof housing suitable for harsh environments
Applications: SIL3, functional integrity, safety, limited space
Pneumatic, single and double-acting
Documentation
Dimension Data
Product Brochures