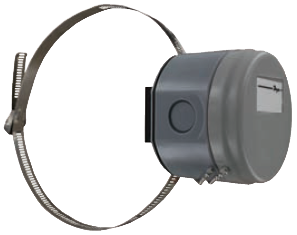 Images are representations only.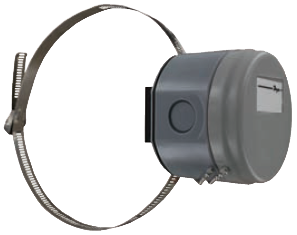 The Series TE-SNW Surface Temperature Sensors non-intrusively measures the process temperature in hot and cold water loops in buildings. An adjustable metal strap can tightly fit around 2 through 6" pipe sizes, allowing the surface area of the copper plate on the sensor to make good contact with the pipe surface.

In order to work with most common building controllers, the output of the sensor can be chosen from 6 different RTD and Thermistor curves. Additional features include a quarter turn twist off cap that is chained to the housing to prevent it from getting lost, and multiple knockout locations and sizes to reduce installation time.
Specifications
Accuracy
± 0.15° C at 0° C (± 0.28° F at 32° F) - RTD DIN Class A
± 0.22° C (± 0.4° F) at 25° C (77° F) - Thermistor
Approvals & Certifications
Enclosure, Body Material
V-0 Polycarbonate Plastic
Operating Temperature
-35.5° to 115.5° C (-32° to 240° F)
Sensor / Probe Type
RTD - Pt100 ohms, PT1,000 ohms
Thermistor - 10 KiloOhms (Typical II, Typical III), 3 KiloOhms, 20 KiloOhms
Heating or cooling loop line temperature monitoring
HVAC systems