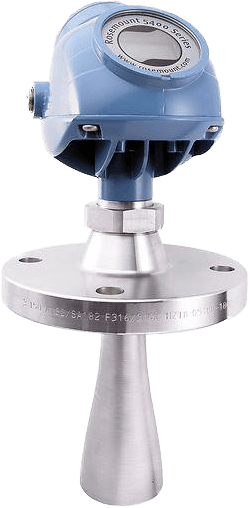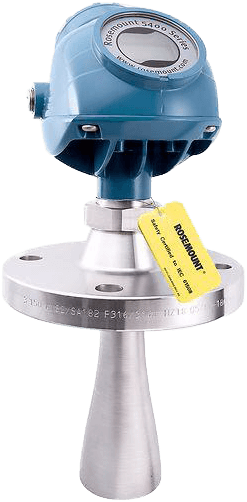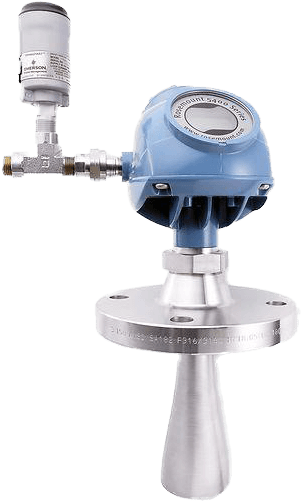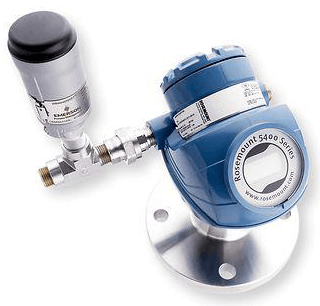 Images are representations only.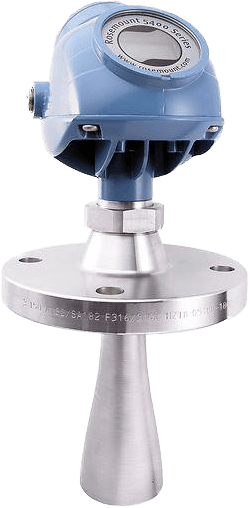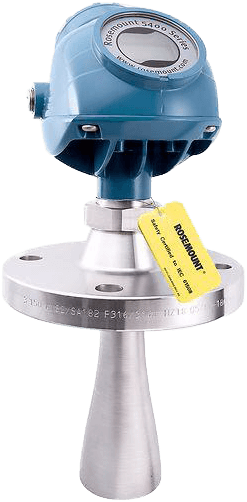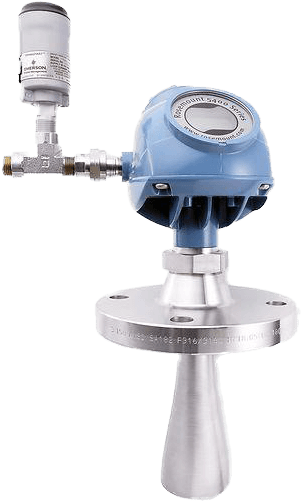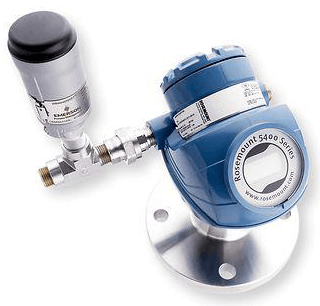 The Rosemount 5400 Level Transmitter provides accurate level measurements of liquids, slurries, and solid materials.

The non-contacting measurement technology with no moving parts requires minimum maintenance. It measures the level top down and is therefore unaffected by most fluid property changes, like density and viscosity.

The Rosemount 5400 is designed to overcome the challenges of obtaining reliable solids measurements. Its unique algorithm provides reliable measurement on solid materials in challenging conditions such as angled or uneven surfaces, multiple surface echoes, and on products with a low dielectric constant.
Features
Air purging connection prevents clogging of the antenna in extremely dusty environments and applications prone to product build-up
Dual Port Technology provides optimal signal strength and sensitivity
Signal Quality Metrics detects and monitors abnormal process conditions such as antenna coating or foam
Solid measurement with unique solids algorithm
Specifications
Approvals & Certifications
SIL 2/3 Certified to IEC 61508
TÜV Tested & WHG Approved for Overfill Prevention
Approvals & Certifications
ATEX
CSA
EAC
FCC
FM
IECEx
INMETRO
NEPSI
TIIS
WHG
Communication
4-20 mA HART
FOUNDATION Fieldbus
Profibus
Enclosure, Body Material
Polyurethane-Covered Aluminum
Stainless Steel (SST), Grade CF8M (ASTM A743)
Flange Size - 10" (DN250)
10" (DN250) - 150#
10" (DN250) - JIS 5K
10" (DN250) - PN 6
Flange Size - 2" (DN50)
2" (DN50) - 150#
2" (DN50) - 300#
2" (DN50) - JIS 10K
2" (DN50) - PN 40
Flange Size - 3" (DN80)
3" (DN80) - 150#
3" (DN80) - 300#
3" (DN80) - JIS 10K
3" (DN80) - PN 40
Flange Size - 4" (DN100)
4" (DN100) - 150#
4" (DN100) - 300#
4" (DN100) - JIS 10K
4" (DN100) - PN 16
4" (DN100) - PN 40
Flange Size - 6" (DN150)
6" (DN150) - 150#
6" (DN150) - JIS 10K
6" (DN150) - PN 16
Flange Size - 8" (DN200)
8" (DN200) - 150#
8" (DN200) - JIS 10K
8" (DN200) - JIS 5K
8" (DN200) - PN 16
8" (DN200) - PN 6
NPT Connection
1-1/2" NPT
2" NPT
3" NPT
4" NPT
Operating Pressure
psi: 0 to 232 (kPa: 0 to 1,600, bar: 0 to 16)
Operating Temperature
-40° to 150° C (-40° to 302° F)
-55° to 200° C (-67° to 392° F) for Parabolic Antenna
Tri-Clamp Connection
2" Tri-Clamp®
3" Tri-Clamp®
4" Tri-Clamp®