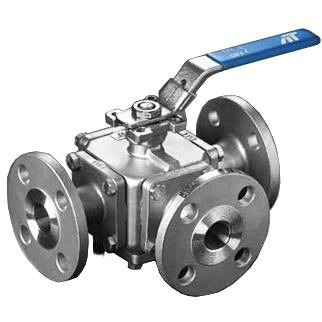 Images are representations only.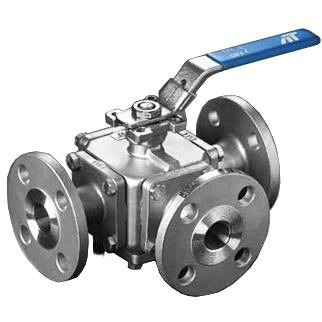 The Triac A-T Controls Series 33 is a three-way, direct mount, multiport ball valve used for mixing and diverting substances. They offer a variety of flow patterns and end configurations, and are available in sizes 1/4" to 4".

The Series 33 has a five seat, full port design with direct mounting pad and optional flanged or sanitary ends. These valves have a Pyramidal stem seal system that protects against wear and leakage, with TA-Luft certification to reduce your plant's fugitive emissions.

This valve series can be automated using a pneumatic or electric actuator. Details on actuators are located in the Series 33 specification datasheet.
Features
Design: Multi-Port 3-Way
Size: 1/4" to 4"
Port: Full
Direct Mount: Yes
Pyramidal Stem Packing: Yes
Materials of Construction:


Body: 316 Stainless Steel
Trim: 316 Stainless Steel
Available Seats: RTFE, PTFE, 50/50%, Cavity Filled

End Connections: Threaded Ends, Socket Weld, Buttweld, Sanitary, 150# Flanged
Maximum Pressure Rating: psig: 300 to 1,000 (valve size dependent)
17 models matching criteria
Specifications
Flange Size - 1/2" (DN15)
Flange Size - 1-1/2" (DN40)
Flange Size - 2-1/2" (DN65)
Flange Size - 3/4" (DN20)
NPT Connection
1" NPT Female
1/2" NPT Female
1/4" NPT Female
1-1/2" NPT Female
1-1/4" NPT Female
2" NPT Female
2-1/2" NPT Female
3" NPT Female
3/4" NPT Female
3/8" NPT Female
4" NPT Female
Options
Cleaned for Oxygen
Degrease & Bagged
Gear Operator
L, T, LL, I, X, TT-Ports
Seat / Seal Material
50% Stainless Steel Powder / 50% Carbon Filled Teflon
Cavity Filled
PTFE (Carbon Filled Teflon)
RTFE (Reinforced Teflon)
Standard Features
High Performance, 3-Way Multi-Port
Tri-Clamp Connection
1" Sanitary Clamp
1/2" Sanitary Clamp
1-1/2" Sanitary Clamp
2" Sanitary Clamp
2-1/2" Sanitary Clamp
3" Sanitary Clamp
3/4" Sanitary Clamp
4" Sanitary Clamp
Welded Connection
1" Butt Weld End
1" Socket Weld End
1/2" Butt Weld End
1/2" Socket Weld End
1/4" Butt Weld End
1/4" Socket Weld End
1-1/2" Butt Weld End
1-1/2" Socket Weld End
1-1/4" Butt Weld End
1-1/4" Socket Weld End
2" Butt Weld End
2" Socket Weld End
2-1/2" Butt Weld End
2-1/2" Socket Weld End
3" Butt Weld End
3" Socket Weld End
3/4" Butt Weld End
3/4" Socket Weld End
3/8" Butt Weld End
3/8" Socket Weld End
4" Butt Weld End
4" Socket Weld End