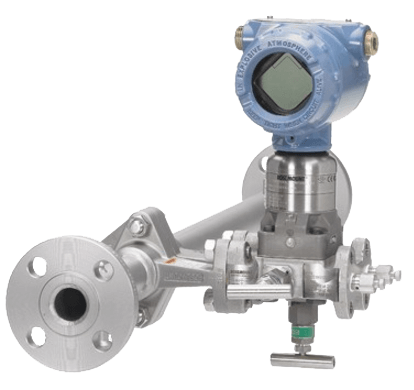 Images are representations only.
3051SFP Integral Orifice Flowmeter
Brand:
Rosemount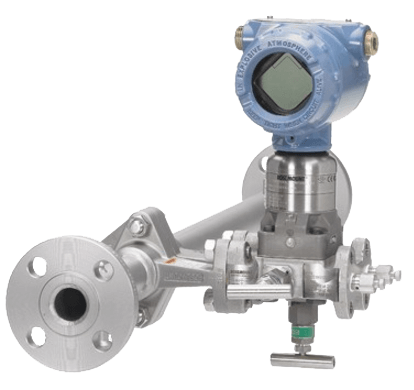 The Rosemount 3051SFP Integral Orifice Flow Meter is a no-equal multivariable device customized with an integral orifice primary element.

This meter run assembly provides easy installation and is engineered to facilitate highly accurate flow measurement in small line sizes (0.5 to 1.5 in. or 15 to 40 mm).

This device is also engineered with built-in flow calculations for fully compensated mass flow measurements.
Features
Designed with built-in flow calculations for direct reporting of fully-compensated mass flow
Advanced diagnostics provide diagnostic coverage to detect abnormal process conditions and electrical loop issues
Primary element integrated in a meter run for ease of installation
Suitable for small line sizes 0.5 to 1.5 in (15 to 40 mm) for optimal flow measurement accuracy and repeatability
Callendar-Van Dusen sensor matching improves temperature accuracy enabling best-in-class flow calculations
Ultra for Flow performance class enables optimized flow measurement with a ±0.04% of reading accuracy
All-welded, SuperModule™ design offers industry-leading accuracy in harsh environments and applications
Flowmeters come fully configured, leak-tested and ready to install right out of the box for fast installation
Flowmeter technology eliminates unnecessary pipe penetrations for an integrated, trouble-free solution
SIL 2/3 certified to IEC 61508 (via 3rd party) and prior-use certificate of FMEDA data for safety installations
Specifications
Accuracy
± 1.05% to ± 2.55% of Flow Rate at 14:1 Flow Turndown
± 1.25% to ± 2.65% of Flow Rate 8:1 Flow Turndown
Alarm
Custom Alarm & Saturation Signal Levels
NAMUR Alarm & Saturation Signal Levels
Ambient Temperature Range
-40° to 85° C (-40° to 185° F)
Applications
Marine & Offshore Applications
Approvals & Certifications
Conduit Connection
A Size Mini, 4-Pin Male Connector (minifast®)
M12, 4-Pin, Male Connector (eurofast®)
Configuration
4-20 mA HART
FOUNDATION Fieldbus Protocols
Wireless Protocols
Damping Adjustment
User Configurable from 0 to 60 seconds
Display
PlantWeb LCD Display
Remote Mount LCD Display & Interface
Electrical Connectors
1/2" NPT
G 1/2"
M20 x 1.5
Electromagnetic Interference Effect
Meets All Relevant Requirements of EN 61326 & NAMUR NE-21
Enclosure, Body Material
316 Stainless Steel
Aluminum
Fill Material
Inert Oil Fill
Silicone Oil
Flange Size - 1" (DN25)
1" (DN25) - ANSI Class 150
1" (DN25) - ANSI Class 300
1" (DN25) - DIN PN 100
1" (DN25) - DIN PN 16
1" (DN25) - DIN PN 40
ANSI Class 600
Flange Size - 1/2" (DN15)
1/2" (DN15) - ANSI Class 150
1/2" (DN15) - ANSI Class 300
1/2" (DN15) - ANSI Class 600
1/2" (DN15) - DIN PN 100
1/2" (DN15) - DIN PN 16
1/2" (DN15) - DIN PN 40
Flange Size - 1-1/2" (DN40)
1-1/2" (DN40) - ANSI Class 150
1-1/2" (DN40) - ANSI Class 300
1-1/2" (DN40) - ANSI Class 600
1-1/2" (DN40) - DIN PN 100
1-1/2" (DN40) - DIN PN 16
1-1/2" (DN40) - DIN PN 40
Humidity
0 to 100% Relative Humidity
Input Power
4-20 mA HART: 10.5-42.4 Vdc
FOUNDATION Fieldbus: 9-32 Vdc
Mounting
Direct Mounting
Remote Mounting
NPT Connection
1" NPT Female
1/2" NPT Female
1-1/2" NPT Female
Orifice Material
316L Stainless Steel
Alloy 400 or Monel®
Hastelloy® C-276
Output
2.4 GHz DSSS
2-Wire 4-20 mA
Overpressure & Static Pressure Limits
psia: 0.5 to 3,626 (bar: 0.03 to 250, kPa: 3.447 to 25,000)
Power Supply Effect
<± 0.005% of Calibrated Span Per Volt Change in Voltage at the Transmitter Terminals
Pressure Range
bar: 0.979 to 250
Inches WC: 0 to 1,000 (mbar: 0 to 2488)
kPa: 97.91 to 25,000
psi: -14.2 to 3,626
Pressure Type
Absolute
Differential
Gauge
Process Connection - Other
Process Temperature
-40° to 149° C (-40° to 300° F)
Storage Temperature
-40° to 85° C (-40° to 185° F)
Wetted Materials
316 Stainless Steel
Alloy 400 or Monel®
Hastelloy® C-276